My sweet, little, tiny, babies started preschool last week. I can't believe it!
When on earth did they get so big?
We feel extremely lucky and fortunate that our boys were accepted into an excellent, special preschool program that meets five days a week. It is a very structured program and the boys will receive all their therapy at the school. We are very excited about it.
However, along with a new school (and the boys were separated so they are in different classrooms) comes new therapists, new teachers, new art projects, new homework assignments, and tons of new paperwork. So what on earth do I do with all of it?
This was my weekend project.
I found these really cute file folders at Office Max:
And I bought these hanging file holders:
I just hung up these holders on the wall in our small office area in the kitchen. I wanted them to be in a place that was easily accessible, and I am in that office nook all the time.
I taped the school calendar on the front of the file holders:
and everyone gets their own labeled folder:
I clip up homework assignments to the front of the holders, so they don't get forgotten:
So now I am feeling much more organized.
Now to get that homework done.....
How do you organize all your kids school papers?
I am participating in: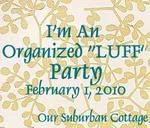 ">